6 Easy Tips for Getting Mental Health Grants for Nonprofits

By
Lisa Potter
·
5 minute read
Behavioral health agencies face a challenging paradox when pursuing grants: They need funding to advance their mission, but time and resources are required to complete the application process.
Grant application success is hindered by:
- Hastily typing answers
- Rewriting answers for every application
- Little emphasis on the alignment of the grantor and applicant missions
- Lack of data on agency effectiveness
- Not leveraging professional networks
- Focusing on the wrong grants
KCare products, such as Exym behavioral health EHR software, securely store client records and automatically generate reports and charts to help agencies pinpoint an area where extra funding is necessary. You can then investigate grants that can support this opportunity and provide valuable data to strengthen applications and increase funding.
We have compiled 6 simple steps agencies can take to actively seek mental health grants for nonprofits and secure more funding for their counseling programs, along with an explanation of how our products can assist in this process.
1. Outline Each Answer Before Drafting a Response
The prospect of finding grants for mental health counseling programs can be exciting, and while nobody wants to spend excess time on applications, this process is not something to rush through. When answering grant questions, copy and paste them into a document and create outlines for each answer. This will ensure your answers address all the necessary information in the questions without burdening readers with extraneous details.
An outline could look like:
Question: What is your plan for this project?
A. Goal of project
B. Determined budget
1. Plan
a. Focus area 1
b. Focus area 2
c. Focus area 3
2. Resources and changes needed for this project to be successful
3. Expected outcome and how it pertains to the grantor and applicant's missions.
2. Store Messaging Used in Grants for Mental Health Counseling Programs
When applying for funding, there are often recurring questions across applications. Instead of rewriting answers for each, create a master messaging document. Preserve well-crafted responses for reuse to save time and effort. This approach enables a you to get a head start on future applications, creating more time to apply for additional grants.
Common application questions asked in grants for mental health counseling programs may include:
- What is your organization's founding mission?
- What problem/issue/community need are you addressing?
- How long has your organization been around, and how did it start with this work?
- What do your operations look like?
- Who directs organization operations and makes financial decisions?
- Where does this funding fit within your organizational strategy and vision?
- What are the potential barriers to success and alternative plans to ensure project success?
- What is the budget breakdown for the proposed project?
- What opportunities are lost by not funding this project at this time?
- While a quick copy and paste will save time, take a few minutes to tweak each answer to align with the grantor's requests.
If your agency serves clients of all ages, but the application is focused on at-risk youth, instead of saying: "Our agency has been providing care to populations of all ages, and we specialize in substance abuse treatment."
Write: "Our agency provides behavioral health and substance abuse treatment to a variety of demographics, 72% of which are under 18 years old."

3. Assure Mission Alignment Between Grantor and Your Agency
Your agency's mission alignment with grant-giving entities is critical to stand out from competing applicants. When researching mental health grants for nonprofits, create a shortlist of organizations sharing similar missions and prioritize them.
Including your agency's mission and impact on clients on your website is paramount. Take a look at K-Care.com as an example:
We aim to simplify the management of the complex processes for child welfare and behavioral health through our powerful, industry-leading case management, EHR, and analytics solutions. Our software helps agencies and clinicians work more efficiently and effectively, empowering them to focus where they are needed most.
If we were seeking funding and found a grantor whose mission is to support child welfare and behavioral healthcare providers, our missions would be aligned, resulting in a higher chance of a grant award.
4. Emphasize the Impact of Mental Health Grants with Data
Grantors wish to see a substantial impact from their resources, so consider case studies and data your secret weapons. In your application, underscore past achievements and explain how your organization can advance its mission. Back your claims with data and specifics that showcase your prior successes. Demonstrating your ability to drive change sets your organization apart, rendering your mental health counseling programs more attractive to grantors.
Agencies use Exym's Analytics module to quickly gather valuable information about client demographics, success rates, needs, and emerging trends. Armed with this data, agencies can craft a compelling needs statement in their grant application, showcasing the potential impact of its proposed interventions or programs. By presenting a well-informed, data-backed case, the urgency and importance of the grant will enhance the chances of securing the funding needed to make a difference.
For example, an Exym customer can say, "67% of our unhoused clients require a more in-depth PTSD treatment in addition to behavioral health or substance abuse care. Last year, a grantor provided us with $40,000 in funding specifically for unhoused populations, and the percentage of those discharged because care was no longer needed increased by 49%."
Those interested in learning more about how Exym provides valuable data for grant writing should watch the recap of our Data & Dollars: Data and Analytics for Grant Writing webinar.
"Exym has made pulling pertinent data that funders ask for when writing grants easier."
- Courtney Mattox, Amanecer Community Counseling Service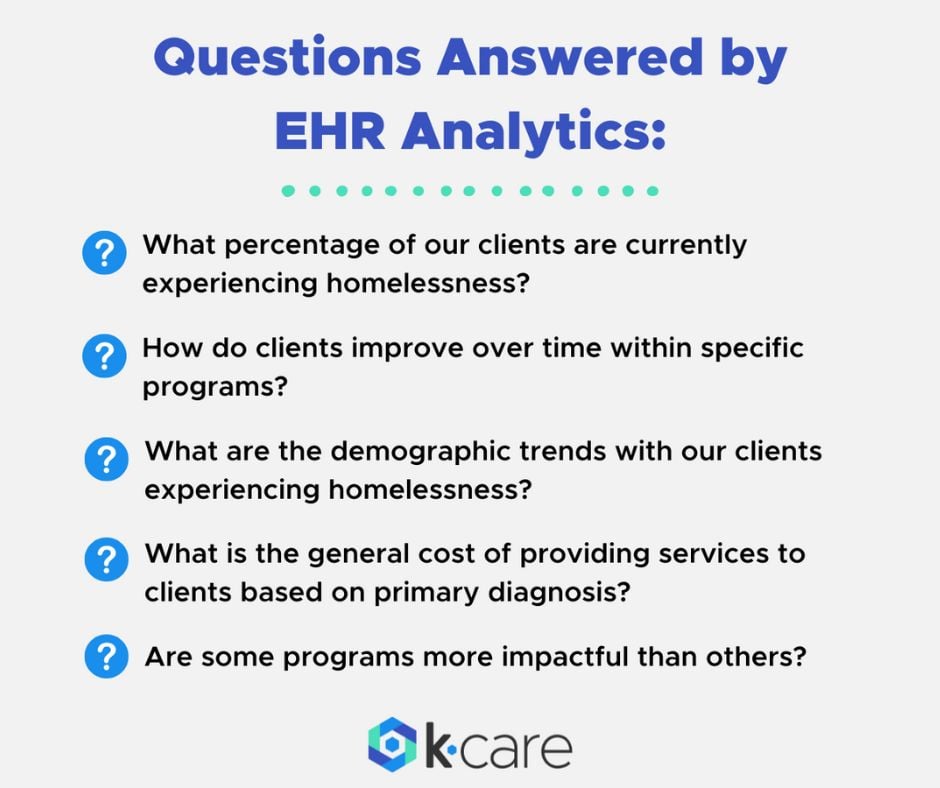 5. Leverage Networks for Mental Health Grants
Networking can make or break grant applications. If you have connections within the grant-giving organization or with a grantee, reestablish those relationships. Platforms like LinkedIn can help you identify existing connections and make an introduction. If you do not have mutual connections, consider connecting with foundation staff members. Building relationships and utilizing your network bolsters your chances of securing mental health grants for nonprofits.


To find the right contact to network with, search for roles at the organization such as:
- Grant Reviewer
- Peer Reviewer
- Review Panel Member
- Grant Evaluator
A LinkedIn message could read, "Hi Sally. At New Leaf Treatment, we actively deliver behavioral health support for at-risk youth in Los Angeles, aligning with your mission. We applied for your grant as we have a project outlined and your grant could help us provide quality services for our clients. We previously received a similar grant and saw a significant improvement in outcomes for this demographic, and I included that data in our application. I wanted to introduce myself as we are working towards the same goal, and I think we would be stronger together. Please let me know if you have any questions or need clarification. Thank you."

6. Small Grants, Big Impact for Mental Health Nonprofits
While larger grants for mental health counseling programs may seem enticing, they often attract a swarm of applicants, and intensify competition. Smaller and medium-sized grants, on the other hand, have fewer applicants and should not be underestimated. The cumulative effect of securing several smaller grants can be substantial for mental health nonprofits.
KCare is dedicated to simplifying your journey to secure mental health grants for nonprofits. Our secure record-keeping tool, Exym, empowers agencies to create customized dashboards and effortlessly generate reports. This invaluable resource also facilitates data-driven improvements in your mental health counseling programs, a significant asset in today's competitive grant landscape.
Navigating the complex realm of mental health grant applications does not need to be overwhelming. Remember the importance of messaging efficiency, mission alignment, emphasizing impact, leveraging networks, and exploring smaller grants. By implementing these practices, you will be on the path to securing vital grants mental health counseling programs.
"We use Exym's Analytics module, and it has been life-changing in adding value to data and decision-making within our organization."
- Kristine Santoro, Vice President, Quality and Innovation at Didi Hirsch
Learn more about Exym's Analytics module at Exym.com.