Connecting Employees in a Remote Working Environment

By
Jessica Carey
·
3 minute read

Ways to Connect Remote Employees
The benefits of working remotely are numerous for both employees and employers. For remote employees, the flexibility, saved time, and work-life balance that comes from working remotely is priceless. For employers, the cost savings, access to a larger pool of talent and employee loyalty makes switching to a remote model a very attractive option. But how do you create a strong company culture when employees and employers aren't together in person? With clear intention and expectations, it's absolutely possible.
Host Virtual Meetings & Hangouts for Remote Workers to Connect
While no one wants a calendar so full of Zoom meetings that they can't get work done, virtual meetings are an important way to connect face-to-face with employees in a remote working environment. Many remote teams maintain regular communication through video calls, instant messaging, email and web conferencing platforms. KCare uses the Microsoft Teams platform for connection through instant messaging, video calls and meetings.
It's also important to intentionally plan virtual get-togethers for non-work related hangouts. Making time for, and placing value on, remote workers spending time together "just for fun" keeps employees engaged and excited to be part of the team. KCare hosts virtual happy hours, virtual morning coffee, and virtual celebrations to keep employees connected.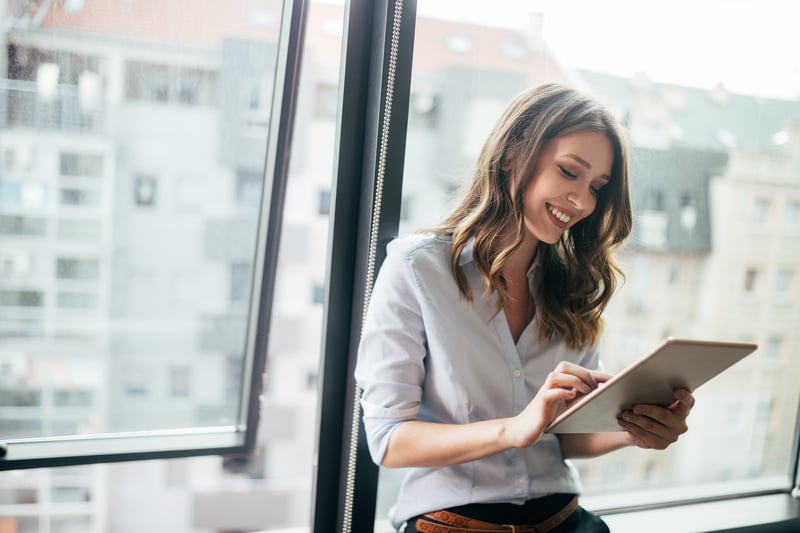 Encourage Socialization
Instant messaging platforms are an important tool when working together remotely. They can also be a valuable tool for the team to connect socially. KCare's Microsoft Teams platform includes social channels that encourage employee connection. These channels include a foodies channel, a reality TV channel, a place to share pet pics, a book club, a Wordle channel and much, much, more. While some companies might view time spent on social channels as "wasted time," socializing at work can actually increase employee productivity.
Make Sure Remote Workers Feel Valued
Everyone wants to feel valued, and employees are no different! When a team is working remotely, finding a way to communicate that requires a little creativity. Publicly recognizing employees in meetings or on an instant messaging platform is one thing that KCare encourages so remote workers feel valued. Employees are also recognized quarterly in meetings through "Core Value Awards" which recognizes employees that exemplify KCare Core Values. Looking for simple ways to show remote employees that they're appreciated helps them feel connected when working remotely.
It's also important that employees have a place to talk about about questions or concerns. At KCare, employees meet with their supervisors weekly for one-on-one supervision. KCare's CEO, Katie Cortes, also hosts monthly Open Door Sessions on Microsoft Teams. During the Open Door Session, anyone can pop in to ask questions about the company, their job, policies, or just use the time to connect.
Talk About Health & Wellness
Employee health should be a priority, whether they're working in an office or virtually. If employees get sick, they won't be able to perform at their highest level – or at all. Encourage remote employees to take a break from their screens and walk around the block once or twice a day. Talk openly about the health challenges that come from a remote working environment and proactively problem solve solutions to keep people feeling their best. For example, KCare hosts Walker Tracker wellness challenges that help bring employees closer together and focus on building healthy habits.
When managing remote employees, it's important to support the full spectrum of their wellbeing, which also includes mental health. Just like everyone needs to be in good physical health to bring their best selves to work, mental health challenges will prevent people from doing their best work, too. Openly talk about mental health so that employees know that it's valued. KCare provides mental health resources like counseling, crisis support, and skill building through health insurance plans. KCare also has a corporate account with Calm that employees can access to practice mindfulness and relaxation.

Build a Team to Promote Connection Among Remote Employees
Managing a remote employee connection team can be a challenge and is something that should be a team effort! KCare values keeping remote workers connected which is why CAT (Culture Advocacy Team) was formed. CAT keeps employees engaged and helps to build and maintain relationships. CAT is a diverse employee volunteer committee that spearheads KCare's culture & team initiatives, activities, promotes KCare Core Values, and much more! Many of the activities mentioned in this article are coordinated by CAT and help to build a strong remote working environment culture.
Keep Remote Employees Connected
The most important thing when managing remote employees is making sure they know that even when they're in different locations, they are still part of a team. By adding some of these strategies to your company culture, remote employees can be proud to be a part of a workplace where they feel valued.
About KCare
KCare is a suite of innovative software solutions designed for behavioral health and human services organizations. Our industry-leading EHR, case management, and analytics products are designed to boost employee efficiency while improving client outcomes. For over 25 years, providers have trusted KCare to transform how they deliver care through our software solutions, including extendedReach, Exym, and Stabilify.
As a certified B Corporation, we operate our business in accordance with the highest standards of verified social and environmental performance, public transparency, and legal accountability. We are also part of the global Pledge 1% movement, donating 1% of our profits to the communities served by our customers.